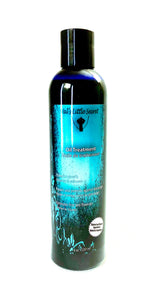 8 oz. / 237 ml
Promotes growth 
Repairs and protects against damages 
Eliminates frizz and flyaways
Dull hair is a thing of the past!
A combination of Hemp Seed Oil, Avocado Oil and Jojoba Oil that nourishes and soften your hair. This fabulous oil blend penetrates the hair shaft and coats each strand to repair damaged cuticles and mend split ends leaving your hair incredibly shiny, strong and healthy. Great for all natural hair types and relaxed/colored hair. It is also an amazing body and cuticle oil.
Directions: Apply to scalp and damp hair. Massage to distribute evenly from roots to ends. Cover hair with a plastic cap and apply heat. Leave for 15-30 minutes. Rinse thoroughly with warm water. Follow with Sulfate-Free Moisturizing Shampoo. Can be used daily as a hair polisher to add a boost of shine. Simply add a small amount on dry/damp hair then style as usual.